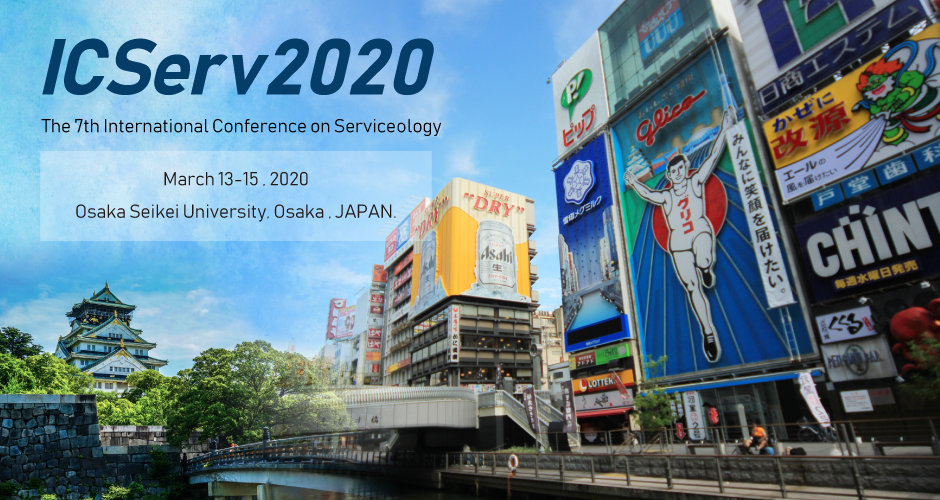 What's New
2020-03-03: Important notice
2020-02-25: Important notice
ICServ2020 (March 13~15, 2020) to be held in Osaka is cancelled owing to the potential infection from coronavirus.
Please go through all the information to be provided on the website or in the e-mails of the Society for Serviceology later.
In due course, you will be informed whether ICServ2020 will be rescheduled or not.
2020-02-04: The ICServ2020 Program(tentative: 2020.02.04) published

2020-01-06: This time, we will have an additional workshop. If you are interested in this Paper Development Workshop(PDW), please check the Call-for-Abstract. The PDW title is "Theorizing Digital Transformation of Services and Related Changes in the Nature of Service Work at the Age of Intelligent Machines". The deadline for Abstract Submission is January 31st. Please directly submit your abstract to Dr. Han, Kyoto University(han.hyunjeong.8r@kyoto-u.ac.jp). Selected papers will be published in the special issue of the International Journal of Information Systems and Social Change.
2019-12-06: The registration page has been opened here. This time we also hold the domestic conference(language: Japanese). So if you want to the domestic conference as well, please check ``2. Rates for attending Both ICserv2020 and 8th Annual Japanese Conference of the Society for Serviceology (Domestic event)''(The registration/payment page is also in Japanese).
Service and Hospitality management - Moving forward with seamless technology -
The International Conference on Serviceology 2020 (ICServ 2020) invites academicians, industry leaders, and other stakeholders to send original research works and case studies. The conference will be held on March 13th-15th 2020 in Osaka, Japan.
The society of Seviceology dedicates "academics for the society" through social science, economics, engineering science, and many other disciplines. To this end, we encourage submissions that quality studies to improve our understanding of the service and its impact and introduce technical advances that enhance the wellness of society as well as business enterprises. The highlighted topics of interest are in the research tracks listed below, but these are not exhaustive;
TOPICS
IoT-Based Services
Service Capability
Service Design
Service Digitalization
Service Disruption
Service Ecosystem and Value Co-Creation
Service Engineering & Technology
Service Innovation
Service Marketing & Management
Service Related Human Behavior
Industry Practices (Healthcare, Tourism, Hospitality,
Education, Retailing, F&B, Gaming, and so forth)
Awards
- ISSIP award sponsored
by ISSP(The International Society of Service Innovation Professionals)
Sponsor